I saw Moneyball last weekend. I've been reading the book, I love baseball and love(d) the Oakland A's. (All things that appear in the movie.) So, I'm sitting there eating my first few red vines, and in one of the opening scenes, Billy Beane (played by Brad Pitt) is talking with some of his scouts and I noticed that he addresses one of them as "Barry." Immediately, I recognize this "Barry" as the one and only, Barry Moss. Moss is the former Salt Lake Trapper's manager. I was ecstatic! I leaned over and was telling everyone "I know that guy talking to Brad Pitt!" Yes, perhaps, I was jealous, and would like to be in a movie myself opposite Pitt. Or, Billy. Or, Barry.
You can see Barry's baseball card in the bottom-right of this picture, along with Bill Murray and his brother, Brian Doyle. (Pic source.)
Barry had a big role as one of the main scouts in the film. He goes back a forth with Pitt a few times and really played the part well. Like a true baseball scout. (Which is probably easy for him, since he knows baseball better than anyone.)  It was great seeing him on the big screen. It made me miss baseball.
I've mentioned before, that I grew up around the Trappers. I got to hang out with Barry when he was the skipper in SLC and I also was able to spend a few days with him when he was the hitting coach for the St. Paul Saints. When I was 17, I got to head up to Minnesota during spring break, under Barry's care, to catch bullpen (where I saw my first real slider), shag fly balls, and even get a few at-bats in a practice game against true Northern League, minor league pitchers. I don't remember the outcome of those at-bats, but I'm sure I got on base – which would make Beane proud.
Back to Murray: I came across his 1988 baseball card online in a post by Beckett as "Behold… The Greatest Baseball Card Ever Made." (Via Beckett)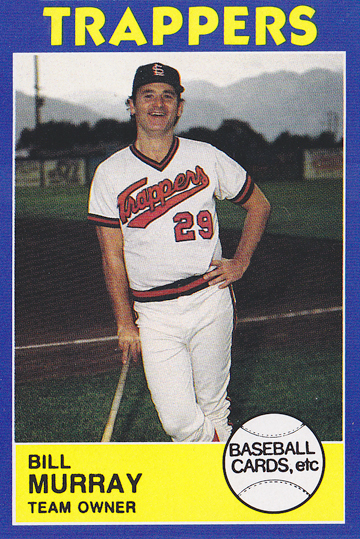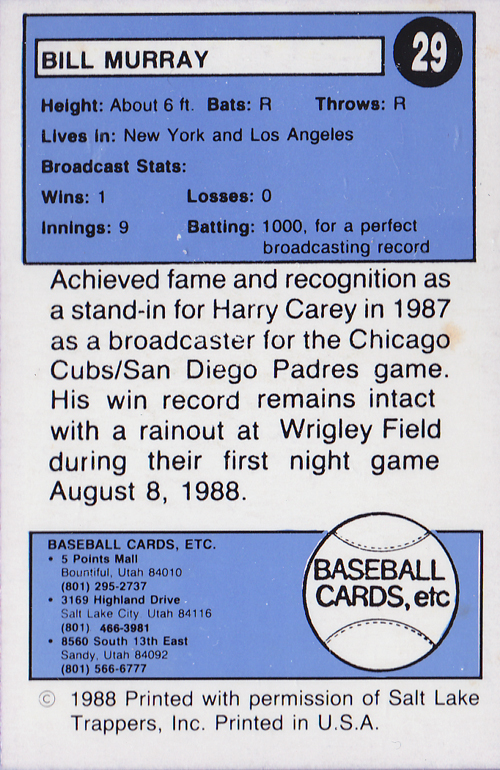 A great card that is undoubtedly floating around in one of my boxes of old baseball cards in the basement. I love baseball.